Repost
United Nations of Cockfighting First Thirteen Principles of Cockfighting From All Over The World.
Cockfighting As A Religion
Cockfighting As A Political Party
Cockfighting Is An Individual Liberty
Cockfighting Is The Only Universal Sports
Cockfighting 8000BC
Cockfighting Is A Livelihood
Cockfighting Is An Industry
Cockfighting Is A Lifestyle
Our Eggs (aka Gamecocks) Are Our Property
We Loved Our Gamecocks (aka Eggs) More Than Anything
Cockfighting Is The Only Reason There Are Great Gamecocks And Great Cockfighters
The Youth Is The Hope Of Our Future
There Can Be No Tyrants Where There Are No Slaves
– Gameness til the End
PS
"Madeleine Mary Zeien Bordallo (born May 31, 1933) is the Delegate from the United States territory of Guam to the United States House of Representatives.
She is the first woman ever to serve as Guam's Delegate, the first female Lieutenant Governor of Guam (from 1995 to 2003), the first female candidate for Governor of Guam (in 1990), and the first female Democrat elected to the Legislature of Guam. Her 1990 campaign also made her the first non-Chamorro gubernatorial candidate in Guam. As the wife of Ricky Bordallo, she was also the First Lady of Guam from 1975 to 1979 and from 1983 to 1987."
Kevin Kerrigan | The Guam Daily Post Nov 5, 2017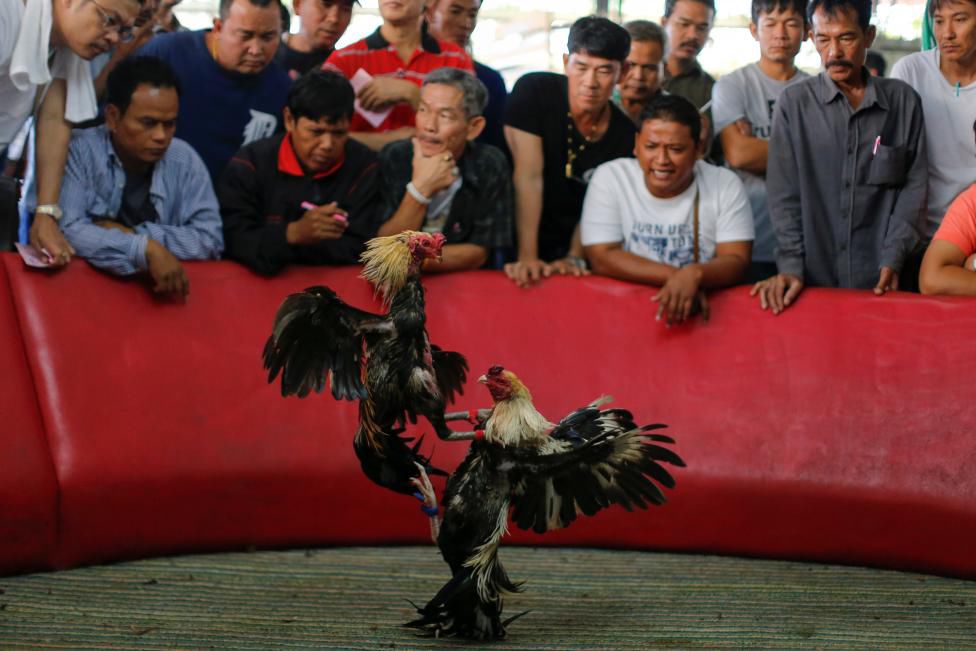 ANIMAL FIGHTING: Men watch a cockfight during festivities organized to celebrate the Lunar New Year and the Year of the Rooster on the outskirts of Bangkok, Thailand, in February of this year. Guam is facing a potential ban on cockfighting after Illinois Republican Rep. Peter Roskam introduced a measure that seeks to ban animal fighting in all U.S. territories. Reuters file photo
Guam Delegate Madeleine Bordallo has issued a statement opposing a bill introduced in Congress on Wednesday that would expand the federal ban on animal fighting, including cockfighting, to all its territories.
Illinois Republican Rep. Peter Roskam introduced the measure. In a written statement, he called animal fighting "an atrocious activity" that has been banned in the United States for 10 years. He said his bill would close the loophole that has allowed this "despicable practice" to continue in the territories.
Bordallo has countered with a statement saying Roskam's bill "would infringe on local laws and policies." She believes that any laws regulating cockfighting should be enacted at the local level.
"Cockfighting has important cultural significance and a long history for the people of Guam," said Bordallo. "I will not support it."
The Humane Society of the United States issued a statement in support of Roskam's bill, noting on its website that "some animal fighting" still occurs in Puerto Rico, the Virgin Islands as well as Guam. Humane Society President Wayne Pacelle states, "We shouldn't have one set of rules against animal cruelty for all 50 states and a different set of rules for U.S. territories."