Repost
– Gameness til the End
PS
Chavez is an American alternative rock band from New York, formed in 1993. After a period of inactivity, the band reformed in 2006. They released two independent non-charting albums in the mid-1990s. Guitarist Matt Sweeney has confirmed that the band is working on its first new recordings since 1996.

Chavez playing at I'll be Your Mirror, Alexandra Palace, London, May 2012
Chavez was formed from the ashes of Wider, and was inspired by the sonic approach of math rock pioneers Slint and the post-punk outfit Mission of Burma. Chavez utilizes angular, asymmetrical riffs and dramatic dynamic shifts. The band is fronted by guitarist Matt Sweeney, who was previously a member of Skunk and Wider, and played with Guided by Voices. Drummer James Lo also came from Wider; the band is rounded out by guitarist Clay Tarver (Bullet Lavolta) and bassist Scott Marshall.
The band quickly gained a following in the New York underground scene following the release of their first single "Repeat the Ending". Their debut album Gone Glimmering was released in 1995 and was followed by the EP Pentagram Ring. The music video for the song "Break Up Your Band" aired in an episode of MTV's Beavis and Butt-head,[citation needed] and the band toured with Guided by Voices and Bardo Pond. Chavez's second full-length album Ride the Fader was released in 1996, and was praised by Entertainment Weekly as "a fine specimen of spare, brainy post-metal hard rock".
Chavez never officially broke up, but they released no new material and played few shows between 1999 and 2006.

Matt Sweeney
Matt Sweeney is a guitarist, vocalist, and producer who has worked with many musicians and groups.
Clay Tarver (born November 8, 1965 in San Antonio, Texas) is an American guitarist and writer.
James Lo is a drummer.
Scott Marshall (born January 17, 1969) is an American director.
By Andrew W. Griffin | March 15, 2017 | Red Dirt Report
Category: Rusty's Music
Rusty's Score: 4.5
EP REVIEW: Chavez – Cockfighters (Matador Records) 2017
I love the photo of the Chavez band members on the back of their new EP Cockfighters (their first offering of new musical material since the Clinton era).
In the photo, you see three of the Chavez band members seemingly arguing over beers in some bar, echoing that scene in 1991's Gen X classic indie film Slacker, where two drunk dudes are arguing over the significance of The Smurfs. As far as we know, the Chavez guys are arguing about the same thing.
Over many beers, Chavez band member James Lo, Matt Sweeney and Clay Tarver argue about Smurfs, Krishna Consciousness or whatever. (Photo by Jesper Eklow)
And so it was in the 1990's. Post-hardcore bands like Chavez found a niche where their brand of aggressive rock was particularly popular, but was out of style by the time the dimwitted Dubya moved into the White House.
Plus, we were all older, getting suits (at least some of us were) and settling down to a certain degree.
Vocalist/guitarist Matt Sweeney, guitarist Clay Tarver (who works with Mike Judge on the HBO comedy Silicon Valley), bassist Scott Marshall and drummer James Lo were all pretty busy in the intervening 20 years, according to this band profile at PasteMagazine.com.
Or as Sweeney tells Paste of their enduring cult appeal: "Our goal with Chavez (was), it would be cool if 20 years from now those records still mean something. I think any good record is like a house: You can go in there and it has its own rules and you can enjoy and live in it."
And listening to Ride the Fader and Gone Glimmering after so long, reminds me that Sweeney is right. These records have a certain staying power. And the band's confidence can be felt on these three tracks (turn them all up – annoy your neighbors!) – "The Singer Lied," "Blank in the Blaze" and "The Bully Boys" the final song acting as the EP's single. And just listen to the band gel here, with Lo's drumming just all over the fucking place. He's a maniac (even with a tambourine!), especially alongside Sweeney's shredded vocals and Tarver's tortured guitar leads. All the while, Marshall thunders along, keeping that bottom-heavy portion going and righting the ship.
But it's three songs over the course of about nine minutes. Do the math.
Produced by John Agnello. It's rock for our time, even if we're grayer and paunchier. Chavez still has it, gang!
By Robert Ham, Contributor (ROCK, METAL, EXPERIMENTAL)
JANUARY 9 2017 | Pitchfork

MATADOR 2017
After a 20-year hiatus, this concise new Chavez EP arrives with little fanfare, drawing in a trancelike sound and Eastern-inspired melodies.
Normally, the arrival of new recordings by a beloved rock band after a 20-year hiatus is accompanied by all manner of fanfare. No so with Chavez. Everything surrounding the return of this beloved indie group has run counter to the norm.
Cockfighters, the quartet's first studio effort since 1996, is a mere three songs, done and dusted in less than 10 minutes. And while their longtime label Matador did their best to coordinate a splashy premiere from "The Bully Boys," the EP's snaky closing track, the band sent their publicists scrambling by dropping it a few days early on their Facebook page. There has been no talk of extensive touring or TV appearances or even a full-length album on the horizon. Like it or not, it seems this is all we're getting. Abbreviated as it may be, though, Cockfighters burns hot and bright, recapitulating the strengths of the group while emphasizing how they've grown as musicians over the past two decades.
Drummer James Lo exhibits this more than anyone here. On previous Chavez albums (1995's Gone Glimmering and Ride the Fader from a year later), he locked in with steady force behind the spinning guitar duets of Clay Tarver and Matt Sweeney. These new recordings, particularly on "Bully" and the slowly engulfing "Blank in the Blaze," turn Lo into a caustic element, sparking and rumbling through each jazzy breakbeat and double-time stomp.
The rest of the band—Tarver, Sweeney, and bassist Scott Marshall—opt for a more minimal sound. There are minor flare ups, such as the guitar solo that streaks through the middle of "The Singer Lied" like a small lightning storm, and the closing minutes of "Blank," where Sweeney and Tarver ooze their individual hues together to create dazzling new colors. But everywhere else, the emphasis is on creating something hypnotic and trancelike with the incessant repetition of Eastern-inspired melodies.
Cockfighters doesn't strike any bold new paths for the group, but Chavez have matured as artists and songwriters, and this EP slots into their catalog well. They've all got day jobs now; they can return on their own terms. (Tarver is a staff writer and co-executive producer on HBO's "Silicon Valley," and Sweeney is a well-regarded session player who has lent his talents to Billy Corgan's supergroup Zwan, Cat Power, and Kid Rock.) It has to help, too, knowing that their previous work has only grown in stature in the years since the first two albums were released. They've garnered enough respect for their work to warrant a three disc CD/DVD retrospective in 2006 and vinyl reissues of their LPs in 2015. While most groups live and die by the flame bursts of hype they can conjure online, the men of Chavez are happy to toss another log on the fire and let it slowly smolder.

Chavez
MORE ALBUM REVIEWS FOR CHAVEZ
Better Days Will Haunt You
BY: MATT LEMAY
OCTOBER 13 2006
This crucial set compiles the underrated indie rock band's entire recorded output on two remastered, chronologically arranged CDs, plus includes a DVD featuring a pair of videos and a European tour diary.
By Joe Allen | November 16, 2016 | 5:04pm
Images via Matador Records, Jesper Eklow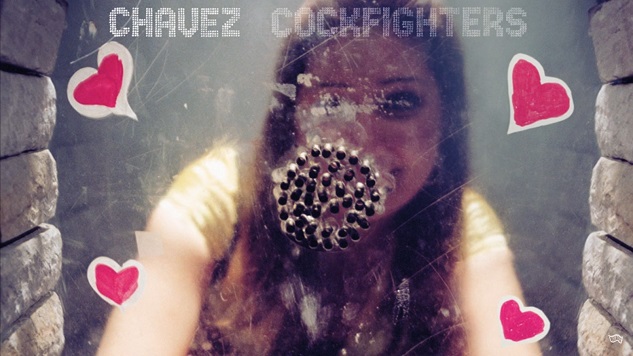 New York alt-rock vets Chavez have been out of our lives for almost 20 years now, but it looks like that's about to change. The band announced Wednesday that they will be releasing a new three-song 12"/digital EP called Cockfighters.
The band is releasing the EP through Matador Records, and the EP represents the band's first new recordings since their 1996 album Ride the Fader. The EP was recorded in 2015 with longtime associate John Agnello (Sonic Youth, Kurt Vile, Dinosaur Jr.).
Chavez unexpectedly leaked a hard-charging single from the EP called "The Bully Boys" via Facebook today, which you can check out below. Find the Cockfighters tracklist beneath that. The EP is due out on Jan. 13, 2017.
Cockfighters Tracklist:
The Singer Lied
Blank in the Blaze
The Bully Boys